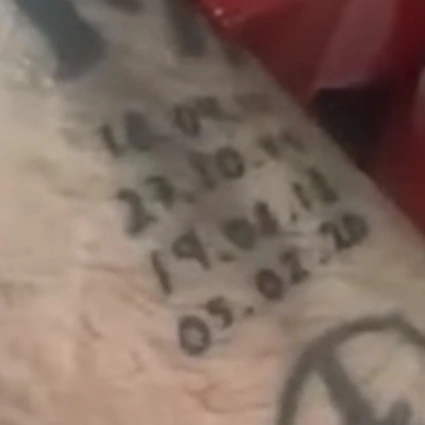 #34 - Children's Date of Births - 2022
Robbie Williams, in a recent revelation, shared his challenge with numbers, referring to it as "numerical dyslexia." Remembering important dates has been a struggle for him, and he amusingly recalled instances where he'd forget the fourth digit of his old Los Angeles address, needing help to recall it. This challenge doesn't stop at addresses. During a trip to the optician with his eldest children, Teddy and Charlie, he found himself unable to recall their birthdates. Concerned about being seen as an unfit father, he discreetly excused himself, pretending to take a call. To aid his memory, Robbie opted for a unique solution – a tattoo featuring a sequence of numbers, each representing a child's birthdate.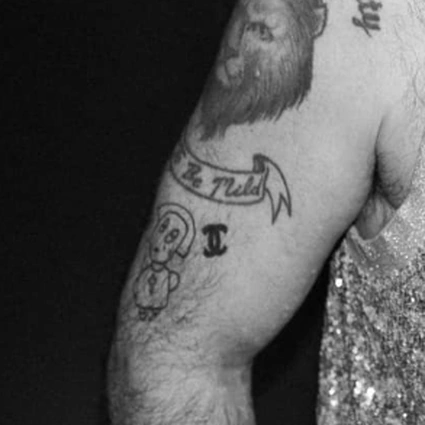 #33 - Coco Chanel - 2022
Robbie Williams' right arm features an interesting array of tattoos. Alongside the "Talk Shit Boy" tattoo, you'll find the iconic Coco Chanel logo. This particular tattoo serves as a heartfelt tribute to his youngest daughter, who bears the same name as the renowned fashion brand. While Robbie has tattoos dedicated to Teddy and Coco, he's yet to ink a tribute to his oldest son, Charlie. However, he has an endearing plan in mind. Robbie intends to immortalize a drawing made by Charlie, featuring "The Flash" superhero, as a unique and personal tattoo. The details of when and where he'll get this tattoo remain uncertain, but it's undoubtedly a testament to the love and special connection he shares with his son. As for a tattoo honoring his youngest son Beau, Robbie is still pondering the perfect design.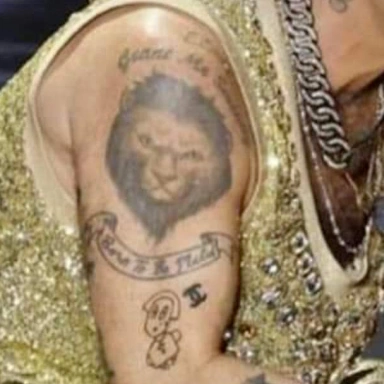 #32 - Talk Shit Boy - 2022
Robbie Williams recently surprised fans by unveiling a new tattoo on his right arm, a creation born out of his collaboration with artist Ed Godrich. This whimsical tattoo showcases a character that Robbie affectionately dubs "Talk Shit Boy." The ink is the result of their joint artistic endeavors, with Talk Shit Boy being just one of their many creative projects. The inspiration behind this character remains a mystery, but what's evident is Robbie's pride in making it a permanent part of his body art. An interesting twist to the story is that Ed Godrich, the artist involved, wasn't initially aware of the character's name. Robbie confessed that he independently coined the moniker "Talk Shit Boy" and hadn't yet informed Godrich of his decision. It's a unique and personal addition to Robbie Williams' tattoo collection.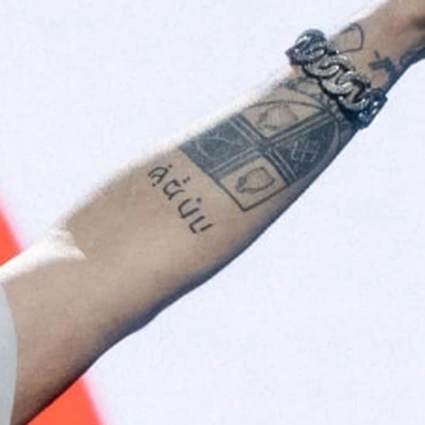 #31 - Simha - 2022
On the inside of his left arm, just above the Coat of Arms, you'll find a tattoo that holds deep meaning for him. This tattoo showcases the word "Simha," which carries profound symbolism as it translates to "Happiness" in Hebrew. It stands as a poignant reminder of joy and positivity, adding a special layer to his body art collection.
#30 - The X Factor - 2018
Robbie Williams and Louis Tomlinson, judges on The X Factor, share a deep bond that goes beyond their roles on the show. Their friendship is so strong that they decided to get matching 'X' tattoos backstage, symbolizing their shared experience and camaraderie. The tattoos, one on Robbie's left and the other on Louis' right, serve as a visible testament to their close connection. Although Robbie initially had some concerns about the tattoo, fearing he had made a mistake when Louis moved, both were delighted with the end result. These matching 'X' tattoos represent their enduring friendship and their time together on the popular talent show.
#29 - David Enthoven - 2017
The tattoo of "DE" on Robbie Williams' right wrist holds great significance, as it serves as a heartfelt tribute to the late David Enthoven. David played a pivotal role in Robbie's life as both his manager and a father figure. To Robbie, David was akin to characters like Alec Guinness and Obi-Wan Kenobi – a wise and benevolent mentor who profoundly influenced his life in countless ways. Unfortunately, David passed away in 2016 at the age of 72, leaving an irreplaceable void in the musician's heart. Nevertheless, through this tattoo, Robbie carries a part of David with him every day, serving as a constant reminder that his life was forever enriched by the presence of this exceptional man.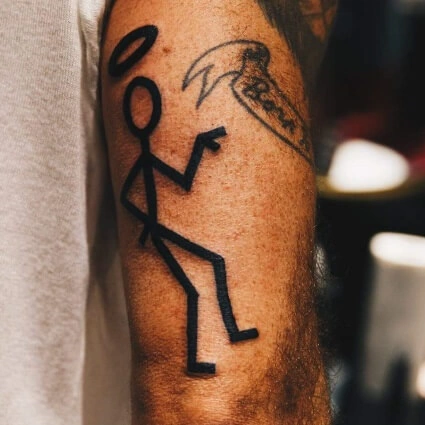 #28 - The Saint - 2017
"The Saint" symbol holds a special place in Robbie's heart, dating back to his childhood when his father had a deep fascination with the character. His dad would devote time to sketching "The Saint" in diaries, creating lasting memories for Robbie. His fondness for the classic TV series featuring Roger Moore and the symbol's personal significance motivated him to ink "The Saint" on the back of his right arm. This tattoo serves as a heartfelt tribute to his father's passion and his own enduring admiration for the iconic character.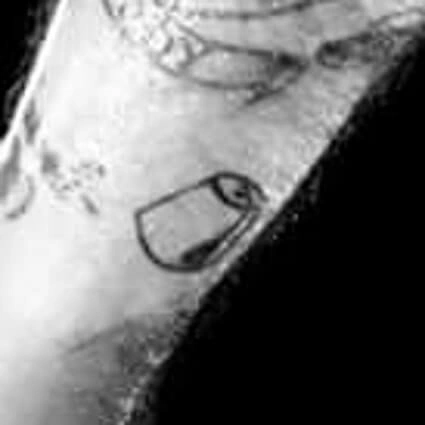 #27 - Fez - 2017
In tribute to the legendary British comedian and magician, Tommy Cooper (1921-1984), Robbie sports a red fez tattoo on his left wrist. Cooper's distinctive style and humor endeared him to British audiences. Robbie's fondness for Cooper goes back to his childhood when he watched the magician's TV performances while enjoying crisp sandwiches with his grandma Betty.
#26 - Ace of Spades - 2017
On his right hand, Robbie sports a prominent tattoo of the "Ace of Spades" symbol, strategically placed between his thumb and index finger. This tattoo serves as a tribute to the iconic song of the same name by the English rock band Motorhead, which was formed in June 1975 by Lemmy Kilmister. Lemmy, the band's primary songwriter, singer, and bassist, had strong connections to Burslem, Stoke-on-Trent, the hometown where Robbie spent his childhood and formative years. This ink is a lasting homage to the band and the shared geographical roots between Lemmy and Robbie.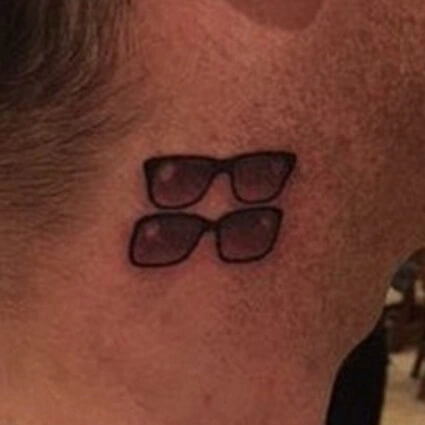 #25 - The Two Ronnies - 2016
Robbie's neck tattoo is a tribute to his childhood heroes, the iconic English comedy duo known as "The Two Ronnies." This tattoo features glasses, a nod to the trademark shades worn by the show's stars, Ronnie Barker and Ronnie Corbett. For Robbie, these comedians hold a special place in his heart, as he fondly remembers watching "The Two Ronnies" with his grandma while enjoying crisp sandwiches—a cherished memory from his youth.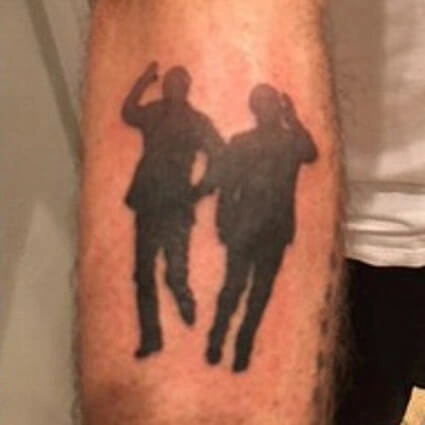 #24 - Morecambe & Wise - 2016
Robbie's nan introduced him to the legendary British comedy duo, Eric Morecambe and Ernie Wise, who became a source of joy and laughter for him as a child. The duo's hilarious antics on variety shows, radio, film, and especially on television, made a lasting impression on Robbie. Morecambe & Wise were icons of their time, and watching them with his grandma is a cherished memory for Robbie.
#23 - Teddy Bear - 2014
A teddy bear tattoo adorns Robbie's body, featuring the letter T on its belly, dedicated to his daughter Theodora (affectionately known as Teddy) Rose. He expresses that Teddy has been his savior in numerous ways, making this tattoo the most meaningful and cherished among his inked collection.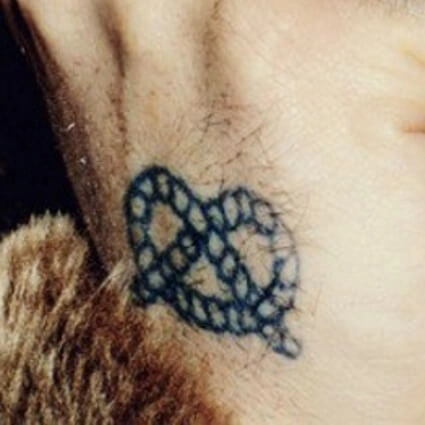 #22 - Staffordshire Knot - 2012
As a proud descendant of Staffordshire, Robbie has made sure to pay tribute to his roots in a variety of ways, including through his tattoos and even his clothing brand. On his left hand, he proudly displays a tattoo of the Staffordshire knot, a symbol that has come to represent his love and connection to his home region. And as the logo for his clothing brand, "Farrell," the knot serves as a reminder of where he comes from and the values that he holds dear. It's a testament to the importance of family, tradition, and community, and a reflection of Robbie's unwavering pride in his heritage. The tattoo is regularly mistaken for a pretzel or a three-hole-knot to hang people with.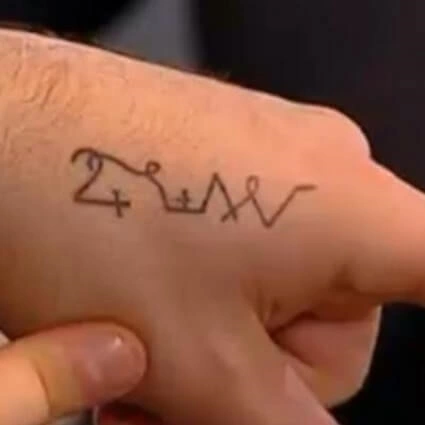 #21 - Sigil of Archangel Michael - 2011
On his left hand, he proudly displays a sigil, a magical symbol believed to have the power to summon angels or demons. Specifically, this sigil is believed to be used to summon the Archangel Michael, known for his role as a protector against evil forces.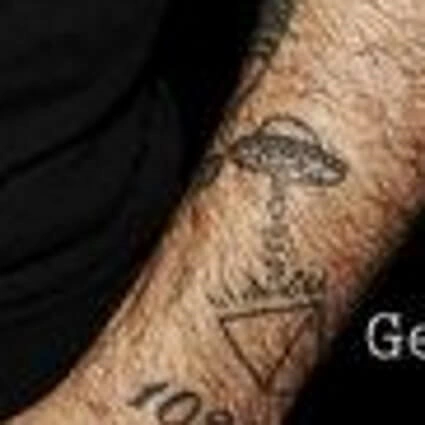 #20 - Pyramid and UFO - 2011
Robbie claims his favourite tattoo is the UFO and pyramid combo by none other than the legendary artist Keith Herring. This iconic ink is perfect for Robbie, who's a huge fan of both Herring's work and the mysteries of the universe. From the early 80s New York subway scene to multi-million dollar art auctions, Herring's art has made a big impact -- and now Robbie's carrying a piece of that legacy on his skin.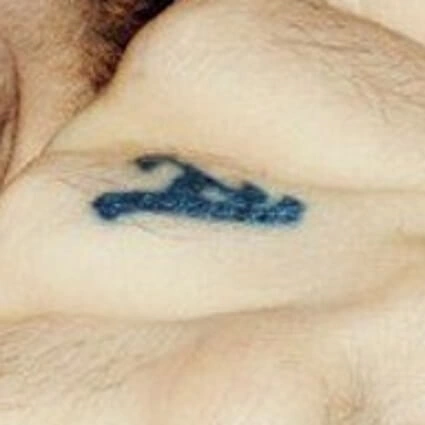 #19 - A - 2010
Robbie's love for his wife Ayda is so strong that he's inked a permanent reminder of her on his right ring finger with a simple, yet meaningful "A" tattoo. After misplacing his wedding ring not once, but twice, Robbie decided to take matters into his own hands and get creative. With a tendency to misplace things, he hopes that the tattoo will serve as a constant symbol of their love - just like his Celtic Cross tattoo. Because when it comes to his love for Ayda, Robbie isn't taking any chances.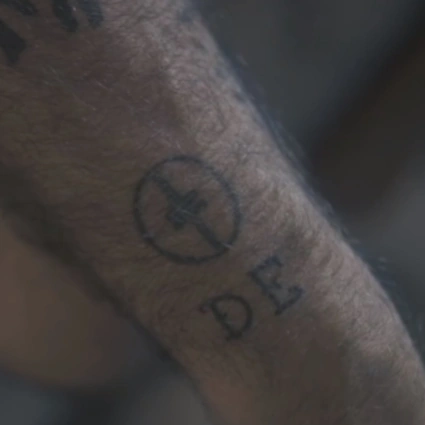 #18 - Take That - 2009
When the Take That boys put their past behind them and rekindled their musical magic in Los Angeles, Robbie was thrilled beyond words. So much so, that he rushed to a tattoo parlor to etch the iconic "Take That" symbol onto his right arm - a mark of their newfound unity. However, not everyone was on board with Robbie's ink enthusiasm. When he proudly showed off his tattoo to Jason Orange, the reaction wasn't quite what he expected: "What have you done that for?"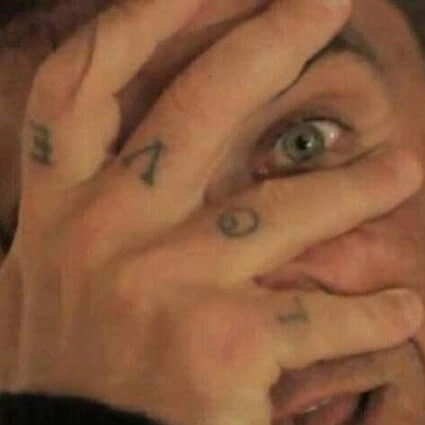 #17 - L-O-V-E - 2007
After falling head over heels for his wife Ayda, he commemorated their love with a tattoo of the letters L-O-V-E, each one adorning a finger on his left hand. And in true Robbie fashion, he even added a cheeky twist with a rectangle around the letter L, to signify that he was a "learner" in love. But as time went on, his love only grew stronger, prompting him to remove the rectangle and embrace his full-fledged status as a love expert.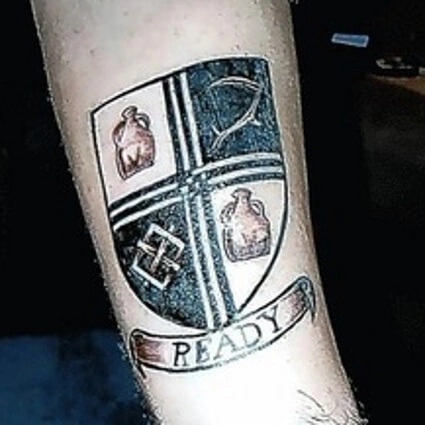 #16 - Burslem Coat of Arms - 2005
Robbie wears his hometown pride on his sleeve - or rather, on the inside of his left arm - with a striking tattoo showcasing both the coat of arms of Burslem, one of the six towns of Stoke-on-Trent, and the crest of his beloved football club Port Vale. Born and raised in Staffordshire, this ink is a permanent tribute to his roots and holds a special place in his heart.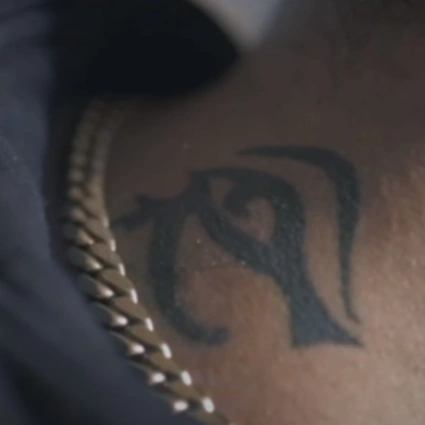 #15 - Eye of Horus - 2005
On his neck, he sports an Eye of Horus tattoo, a powerful symbol of protection against evil spirits. The Eye of Horus, an Egyptian deity often depicted as a falcon, is renowned for its omniscient gaze and ability to ward off negativity. With this tattoo, Robbie displays his his belief in the power of spiritual protection.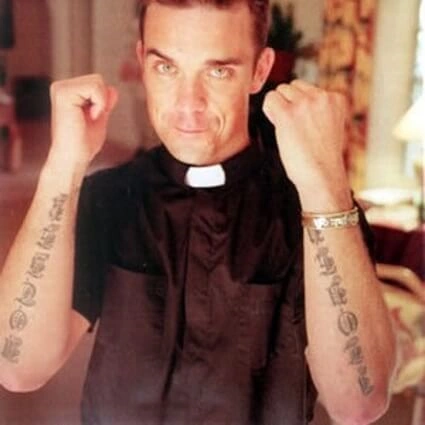 #14 - Mother I Love You - 2005
Robbie wears his heart on his sleeve - or rather, his lower arms - with a pair of tattoos that express his deep love and affection for his mother. The words "Mother" and "I Love You" are etched in Old English font, inspired by the cholo or Mexican Gangster look that Robbie was drawn to at the time.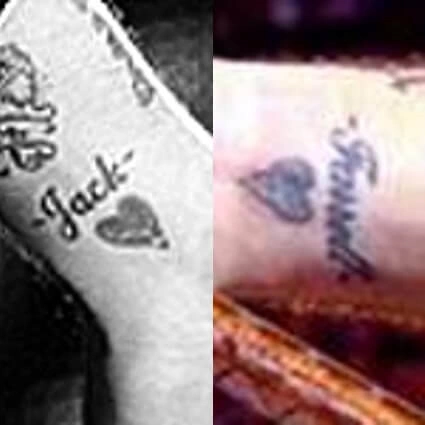 #13 - Hearts - 2003
Below both 'Jack' and 'Farrell' Robbie has a tattoo of a heart (one on each wrist).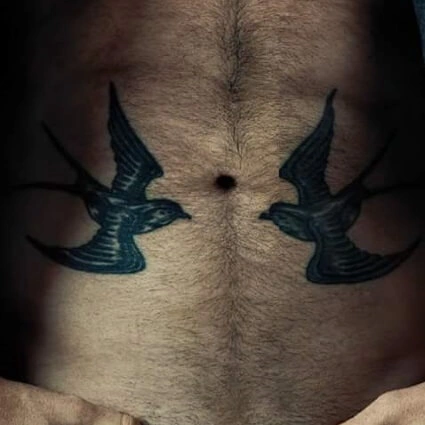 #12 - Swallows - 2003
Robbie's two swallow tattoos symbolize freedom and loyalty. But according to the cheeky popstar, they also represent his adoring female fans.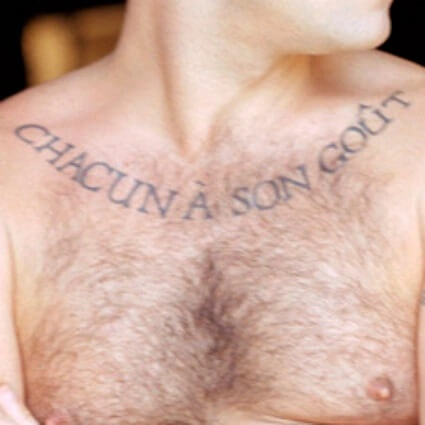 #11 - Chacun A Son Gout - 2003
Robbie's chest tattoo reads "Chacun à son goût" - a French phrase that caught his wife Ayda's attention on their very first date. As they soaked in a hot tub, Ayda mentioned that she usually doesn't date guys with tattoos, but the French words on Robbie's chest intrigued her. She quickly noticed that the phrase was misspelled, and should have been "à chacun son goût," which translates to "Each to their own (taste)." Despite the error, Robbie sees the misspelling as a unique and cool feature of the tattoo. And while the phrase may have been unintentionally altered, the sentiment behind it remains the same - embracing individuality and celebrating personal taste.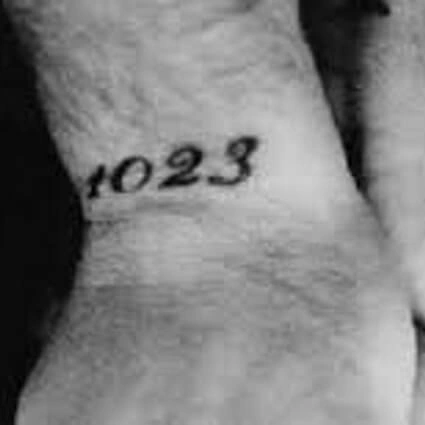 #10 - 1023 - 2003
The digits 1023 may seem like a random combo, but they're actually a clever tribute to his (former) BFF Jonathan Wilkes. J is the 10th letter of the alphabet and W is the 23rd, hence the numbers 10 and 23. But the friendship didn't stop there - Jonathan also has a tattoo of the digits 1823, representing RW, on his thigh.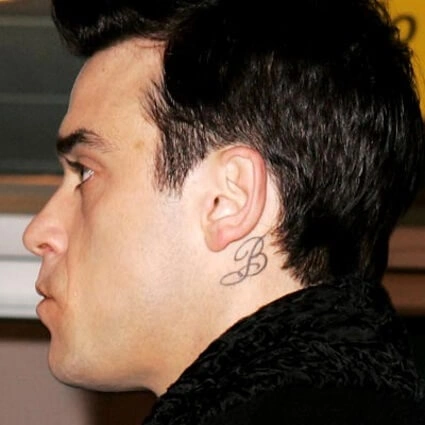 #9 - B - 2002
Robbie's left ear tells a heartfelt story with a simple yet significant tattoo. The letter 'B' is inked behind his ear as a tribute to his beloved grandmother, Bertha, who was lovingly known as 'B' by everyone around her, as she hated her name. Though she has passed away, her memory lives on through this tattoo, which serves as a touching reminder of the special bond they shared.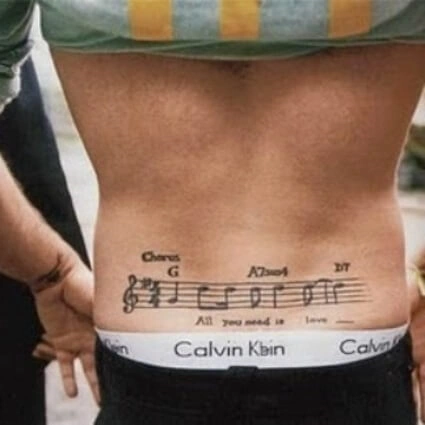 #8 - All You Need Is Love - 2001
Robbie's love for music and tattoos intersected when he saw his friend's music note tattoo and was inspired to get one of his own. While he can't recall which song his friend chose, Robbie opted for the iconic Beatles hit, "All You Need is Love." However, he put his own twist on the tattoo by personalizing it for his wife Ayda. On Valentine's Day, he crossed out "Love" in the lyrics and replaced it with her name.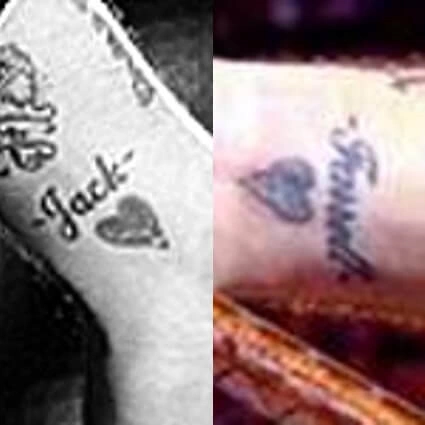 #7 - Jack Farrell - 2000
Robbie has a tribute to Jack "the Giant Killer" Farrell on his wrists - Robbie's towering, handsome grandfather who stood tall at 6'4" and worked in the mines. As a strong Irish Catholic, Jack had a special place in his heart for his beloved grandson Robbie. Even though Jack is no longer with us, his memory lives on through Robbie, who carries him everywhere he goes - just like he does with his close friend David. From his impressive stature to his unwavering love, Jack's legacy will always be a cherished part of Robbie's life.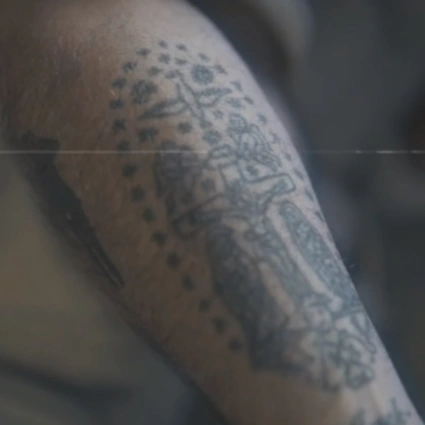 #6 - The Christian - 2000
Robbie was raised Catholic and saw the image of "The Christian" - which is represented on the inside of his right arm - in a book and thought it would make a good tattoo and he's still very happy with it. It's a portrayal of Jesus on the cross with the Virgin Mary and angels surrounding them.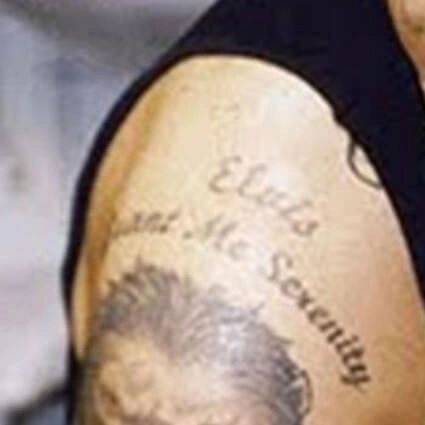 #5 - Elvis Grant Me Serenity - 2000
Have you ever been to an Alcoholics Anonymous meeting and heard the famous prayer, "God. Grant me the serenity to accept the things I cannot change. The courage to change the things I can. And the wisdom to know the difference"? Well, Robbie takes it to a whole new level. He's got the first line of that powerful prayer tattooed on his right shoulder, and instead of praying to God, he prays to the King of Rock and Roll himself - Elvis! But that's not all - before hitting the stage with his band, they all say the prayer together, and end it with a rockin' "Thank you very much" in true Elvis style.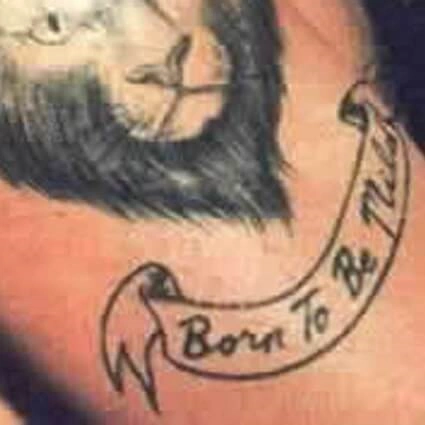 #4 - Born to be Mild - 1999
Born to be Mild is a variation of the English song title 'Born to Be Wild' by The Troggs.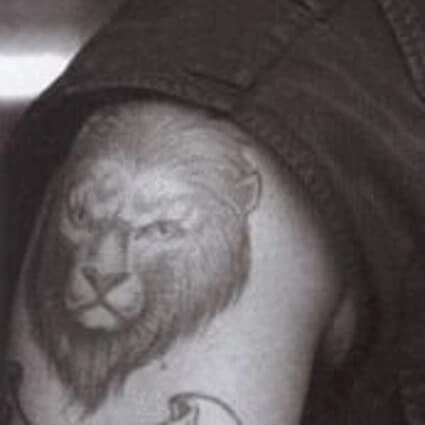 #3 - Lion's Head - 1999
Robbie recalls Eminem's confession that rap music made him feel tough, even if he wasn't. Throughout his life, Robbie has faced moments where he didn't feel strong enough and needed something to help him push through. That's when his trusty lion tattoo on his right shoulder comes into play, serving as a symbol of bravery and a reminder to roar louder than his fears.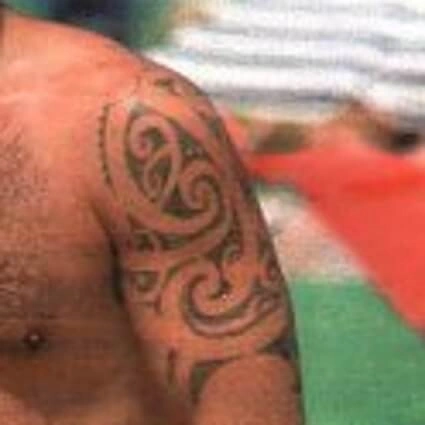 #2 - Maori Prayer - 1998
Robbie's Maori prayer on his left shoulder was inked by none other than renowned New Zealand artist Te Rangitu Netana in Amsterdam! This fierce design featuring a shark and the sea took 3 hours to complete and was way ahead of the tribal tattoo trend. But while the tattoo may have upset some Maori elders, Robbie's love for it knows no bounds. Not only does it look great, but it also serves as a symbol of protection against his inner demons, with the shark representing strength and the sea reflecting his lightning-fast wit.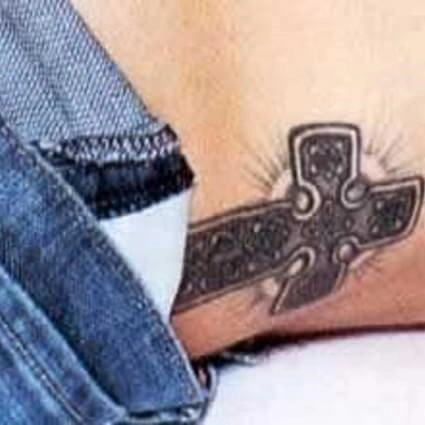 #1 - Celtic Cross - 1993
Robbie's first tattoo was a Celtic Cross, which he viewed as a symbol of protection. Though he was raised Catholic, he no longer practiced the religion when he was 17. He lost his necklace and decided to get the Celtic Cross tattooed while in Amsterdam with Paula Yates while she held his hand. Robbie chose to get the tattoo on his right thigh so that he could hide it from his mother if she'd disapprove. His reasoning? He'd already lost his Celtic Cross necklace, so having the tattoo on his thigh would ensure he never lost it again.